Color pocket sounder: Simbia CPS - 200M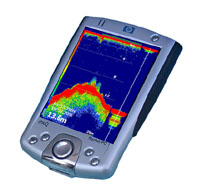 Simbia CPS-200M echosounder is designed for amateur fishing and allows to realize all spectrum of functions of this class echosounder, and also some functions of professional and fishfinding technique.
Echosounder is designed on a base of personal PC (Pocket PC), to which transceiver with hydro acoustic antenna is connected.
Functional possibilities:
Some ways of connection with transceiver - cable (interface RS-232/USB) or wireless ("Blue Tooth" technology).
Possibility of work with GPS module for creating navigational fish-finding complex with defining position data, course and speed move.
Usage of hydro acoustic antenna with temperature, speed sensors (or separate sensors) for measuring water temperature and speed of vessel move.
Slide's record and "alive" echograms in PC memory for future slide view and echogram playback in a real time.
Possibility of work during winter conditions through ice being thick up to 0,5 meters when sensitivity is a little bit decreased.
Wide spectrum of modes of reflected information (full screen, pelagic expansion, bottom expansion, navigational mode) and tools (A-scope, scale of depths, range cursor, line of mark, collection of color palette).
Autonomic echosounder power supply (PPC and transceiver separately) from build-in accumulators charged from circuit ~220 V or car accumulator.
Waterproof execution.
Technical specifications:
Parameters, function
Values
Color LCD display (PPC)
Diagonal 9 cm (3,5"), 320 х 240 pixel (QVGA)
Working frequency
200 кГц
Transmit Power
50 W (RMS)
Bottom detection range (silt - sand)
up to 220 meters
Big fish detection range
up to 65 meters
Working ranges
5, 10, 20, 40, 60, 80, 100, 150, 200 m
Phasing
up to 200 m with step 1 m
«Dead» space
up to 0,3 m
Accuracy of measured distance
up to 1 % (with entered correction of sound speed)
TVG and gain control
manual and automatic
Modes of echo signals processing
white line, color filter, noise suppressor, digit depth indication.
Saving information
slide and echogram record
Display modes
full screen, pelagic broadening, bottom broadening, navigational mode,
slide and echogram review, A-scope
Color palette of echo signals
7 or 14 colors (6 dB/color or 3 dB/color according to signal level)
Background color
black, blue or white
Palette intensity
day, evening, night
PPC connection with transceiver
"Blue Tooth" or RS-232
Antenna:
execution
bottom or transom
diagram of direction
20° or 8°
additional functions (option)
temperature and speed sensor
Power supply:
from build-in accumulator
up to 10 hours (transceiver)
from outward source
adapter
Range of working temperatures
from - 5° to + 40° С (PPC – according to producer's data)
Dimensions:
Transceiver
120 х 70 х 40 mm
Mass:
Transceiver
250 g
A scope of delivery:
Personal computer PPC (a set)
Transceiver TRX-200
Antenna 200 kHz
Auto charging adapter
CD with software
Technical manual
Option:
GPS module
PPC cover protecting from splashes
Antenna with temperature and speed sensors
Temperature and speed sensors Network charging adapter