Radars Furuno FR- 1505 / 1510 / 1525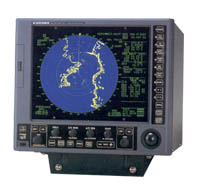 15" display with high resolution 1024 x 768.
Receiver with logarithmic amplifier.
16-level yellow-green display with day and night color gamut.
Double electronic bearing lines (EBL) and regulable marker of distance (VRM), with scrollable central spot.
Modes "on course", "on north", "on true course" and "true motion".
Information about the distance of difference of target and about the time of difference of target, precise data about target .
Two guiding zones of alarming.
Video output for outward monitor with additional interface panel.
Additional reduction gear for 42 turns/min.
Type approval RMRS.
Technical specifications:
Parameters, function
Values
Antenna type
Slotted waveguide array
Rotation
24/42 turns/min
Horizontal beamwidth
1,8°, 1,23°, 0,95°
Vertical beamwidth
20° (25°)
Working frequency
9410+30МHz (X-band)
Output power
FR-1505 - 6 kW
FR-1510 - 12 kW
FR-1525 - 25 kW
Frequency
60 МHz
Noise figure
6 dB
Display type
15" color CRT, 1024 x 768 pixels
Modes of reflection
Head-Up, Head-Up TB, Course-Up, North-Up, True Motion
Detection ranges
0.125, 0.25, 0.5, 0.75, 1.5, 3, 6, 12, 24, 48, 96 nm
Ring ranges
0.025, 0.05, 0.1, 0.25, 0.25, 0,5, 1, 2, 4, 8, 16 nm
Minimum range and discrimination
35 m
Input NMEA 0183 data
$xxGGA, $xxGLL, $xxRMA, $xxRMB, $xxRMC
$xxBWR, $xxBWC, $xxWPL, $xxRTE, $xxDPT
$xxDBT, $xxDBS, $xxVDR, $xxMWV, $xxVBW
$xxVHW, $xxVWT, $xxVWR, $xxZDA, $xxMTW, $xxVTG
Output NMEA 0183 data
$RARSD, $RATTM, $RAHDB, $RAHDM, $RAHDT
A scope of delivery
Standard
Display
Antenna
Antenna cable 15/20/30 m
Mounting tools and spare parts
Option
Gyro interface IGL-01
Video plotter RP-17
Radiation detector PM-30
Auto plotter ARP-17