Length indicator of wires Simbia IDW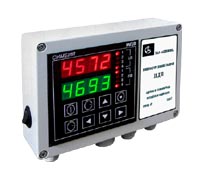 Is designed for length and traffic route detection of wires of wired winch on fishing vessels of stern trawling.
Device can also be used for control of length and movement direction of any metal and non-metal ropes, cables, wires etc. friction-connected with turning insulators.
Technical specifications:
Parameters, function
Values
The amount of simultaneously controlled wires (ropes)
2
Length indication of wires
digital 4-discharged
Ranges of length indication
0 – 999,9 or 1000 – 9999 m
The unit of low-order position
0,1 or 1,0 m
Length definition error
0,2% from measured length
Audio and light signalling
49 m and a limit length during output
40 m and a limit length during access
During reaching fitted denotation
Data output by outward supplier
NMEA-0183
Admissible speed of wires movement
from 0 to 4 m/sec
The time of non-stop work
24 hours
The time of work from built accumulator
1 hour
Power supply
220 V ± 10%, 50 Hz, 10 VA
Mass:
Indicator unit
1,0 kg
Repeater unit
1,0 kg
Sensor unit with a cable
2,0 kg
Magnet unit
0,2 kg
A scope of delivery:
Indicator's unit IDW
Unit of sensors with cable 4 m
Magnet unit
A set of mounting and spare parts
Passport
Repeater unit IDW-R (option)