VHF radio stations Thrane&Thrane RT-4822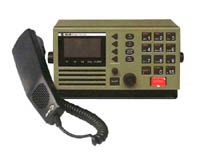 RT-4822 (Denmark) is a simplex/semi simplex VHF radio station with build-in DSC of A class. Comfortable control panel. Graphic LCD-display. Alarm button with protective cover. Sound and visual alarming. Build-in clock. System interface on bus-bar SPARC. Printer interface and NMEA.

Is corresponded with requirements of ETSI, IEC, ITU and IMO, GMDSS and also with requirements of national law system. Has a type approval from RMRS and RRR.
Technical specifications:
Parameters, function
Values
Main channels
All international channels for work on 25 kHz, 55 private channels
Additional channels
All international channels for work on 12,5 kHz 224 channels, including 54 private channels
Channel's delivery
25 kHz / additionally 12,5 kHz
Range of frequencies
150,8 MHz - 163,6 MHz
Navigational interface
NMEA-0183, GGA, GLL, ZDA
Antenna connectors
Standard 50 W "mama", SO239
Temperature mode
from -15 to +55°С
Power supply
13,2 VDC nom.
Power current:
- Mode of wait
- Transmitter (reduced mode)
- Transmitter (increased mode)

0,14 А
1,5 А
5 А
Dimensions of transceiver
100 х 200 х 163 mm
Maximum length of connecting cord between transceiver
40 m (when voltage is 12 VDC)
80 m (when voltage is 24 VDC)
Mass of transceiver
2,5 kg
A scope of delivery
Transceiver VHF/DSC;
Converter N420 24В/12V DC;
Power supply source N163 220 V AC;
Two antennas with holders;
60 meters of cable RG213 with connectors.