Radars Furuno FR- 7062 / 7112 / 7252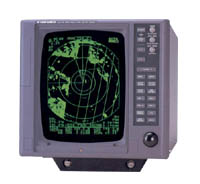 12" CRT display of high resolution with 8 grads of brightness.
Radius of circle up to 96 nm (FR-7252).
Durable waterproof hull.
Reflection of cursor position as width/length or as azimuth/distance.
Output of cursor position in transaction NMEA 0183.
Two functional buttons which are programmed by the user.
Possibility of antenna installation with the increased speed of scanning (48 turns/min).
Automatic adjustment and optimizing of radar presentation.
Modes of reflection ''Relevant motion'', "True course", "True north" and "True motion".
Alarming mode about target appearing in guiding zone and alarming mode about output of chosen target outside the limited zone.
Possibility of autoplotter ARP-10 installation (automatic/manual capture up to 10 targets and automatic following them).
Type approval from RMRS and RRR.
Technical specifications:
Parameters, function
Values
Antenna type
Slotted wave guide array
Rotation
24/48 turns/min
Horizontal beamwidth
1.9°, 1.2°
Vertical beamwidth
22°
Working frequency
9410+30МГц (X-band)
Output power
FR-7062 - 6 kW
FR-7112 - 12 kW
FR-7252 - 25 kW
Frequency
60 МHz
Noise figure
6 dB
Display type
12" CRT display with green color,
8 grades of brightness, resolution 481 x 640 pixel
Modes of reflection
Head-Up, Head-Up TB, Course-Up, North-Up, True Motion
Detection ranges
0.125, 0.25, 0.5, 0.75, 1.5, 3, 6, 12, 24, 48, 96 nm
Ring ranges
0.0625, 0.125, 0.25, 0,5, 1, 2, 4, 6, 12, 16, 18, 24 nm
Minimum range and discrimination
25 m / 20 m
Input NMEA 0183 data
$xxAPB, $xxBWC, $xxBWR, $xxDBK, $xxDBS
$xxDBT, $xxDPT, $xxGLC, $xxGLL, $xxGTD
$xxHDG, $xxHDM, $xxHDT, $xxMDA, $xxMTW
$xxRMA, $xxRMB, $xxRMC, $xxVTG, $xxVHW, $xxXTE
Output NMEA 0183 data
$RATLL, $RATTM, $RARSD
Environmental temperature
- 15° C + 55° C (reflection device)
- 25° C + 70° C (transducer)
A scope of delivery:
Standard set
12" display
4' opened transducer
Track Ball manipulator
12-32 V DC power supply
15 m transducer cable
Option
NMEA cable with the connector
Auto plotter for 10 targets
Gyro compass for a small vessels
Gyro interface IGL-01
Additional LCD display