Public addresser system Samyung SNP-100/200/400/800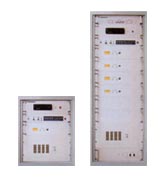 SNP is a public addresser system by Samyung Enc., South Korea.

Public addresser system:
Cabin and passage speaker. Emergency speaker. Watertight speaker. Speaker turn table.

Marine telephone system:
Auto-telephone. System of service telephony. System of radio and TV broadcasting. System of broadcasting from tape-recorder. System of self-powered connection.
Technical specifications
Parameters, function
Values
Public addresser system:
Output capacity of amplifier
SNP-100 (100 W)
SNP-200 (200 W)
SNP-400 (400 W)
SNP-800 (800 W)
Frequency characteristics
300 - 8000 Hz (at a level ± 6 dB)
Distortion
Less than 5 %
S/N ratio
More than 50 dB
Built in equipment
Super-heterodyne system
Intermediate frequency
455 kHz
Receiving frequencies
АМ (530 - 1605 kHz)
FM (88 - 108 MHz)
Sensitivity
Less than 15 micro volt (АМ)
10 micro volt (FM)
Selectivity
Less than 5 kHz (at a level -6 dB)
Alarm sound
800 Hz
Alarm light
1300 Hz, 0,25 sec
Power supply
220 VAC, 50\60 kHzor 24 VDC
Marine telephone system:
Maximum number of subscribers
128
Auto telephone connection
SAT-1064
System of self-powered connection
SST-120
System of radio and TV broadcasting
SCA-700
System of service telephony
SBT-1021
System of broadcasting from tape-recorder
(125 Hz - 6,3 kHz), 4,75 centimeter/sec
System of broadcasting from CD
СD 12 centimeters, 20 Hz - 20 kHz 1,2 m/sec
A scope of delivery
Main unit;
Horn loudspeakers;
Portable loudspeakers;
Head-phones;
Microphones;
Telephone set;
Connection boxes