Charts system Olex Lino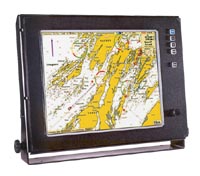 Lino - is the electronic chart system for any type of the vessel of any area of fishing. System is easy to use and shows maximum possibilities of chart mapping.
Quick access and a work with any part of chart, which shows a high clearness of, reflected details. Instant chart scaling. Usage of official electronic charts, which have proven itselves on many vessels of worldwide marine fleet.

Easy routing, automatic saving of all accomplished routes, transformation of all motion paths into autopilot route. Unlimited capacity of plotter saved data.
Technical specifications
Parameters, function
Values
Marine chart system:
Norwegian drainage service
C-MAP charts
Official electronic charts
S57 and NSKV format
СМ93 format
IC-ENC, NOAA, Primar Stavanger, ChartWorld
Electronic chart managing
With a help of keyboard and mouse
Modes of bottom reflection
2D map - flat reflection
3D map - volume reflection
Registration and record of water temperature
From - 5° to + 30° С
Modes of transferring data to autopilot
According to track spots
According to route
Direction of chart orientation
Any
Consideration of undercurrent influence
Automatic
Connecting of outward equipment
Autopilot,GPS, Echosounder, Gyro, Radar
Compass, temperature sensor, AIS
Additional functions and opportunities
Bottom solidity determination
3D views presentation and trawl positioning (ITI)
Highlighting of objects on a chart
Animated lights and sectors
Color marking of bottom solidity
From brightly rose (mild bottom) Till brightly yellow (solid bottom)
Manu language
English, German, French, Norwegian, Spanish
Display requirements
Resolution not less than 1024 х 768 pixels, 70 Hz
A scope of delivery
Display;
A set of mounting tools.