Fish Sizing Echo Sounder Sonic KSE-300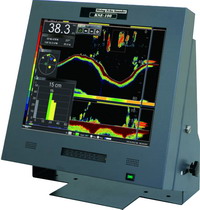 Echo sounders are designed to transmit sonic waves from a transducer and receive the echo reflected from fish or the bottom of the sea. On previous echo sounders, images were adjusted by the TVG volume and gain volume, so that the reflected echo could easily be seen on the echo sounder picture.
This Fish Sizing Echo Sounder needs no TVG volume adjustment, and it automatically and accurately corrects the sonic wave attenuation under the sea. Fish schools of the same density are displayed in the same color regardless of the depth.
Detection of a single fish with high accuracy.
Zoom function with biomass information.
Controller designed for this system.
Data recording function installed as the standard feature (row data).
High precision digital TVG.
Function to determine the sea bottom level.
Fast and easy operation.
Improved bottom detection functionality.
Menu system in multiple languages.
Technical specifications
| | |
| --- | --- |
| Parameters, function | Values |
| Display | LCD Display 1280x1024(SXGA) |
| Operation | Operated by RC-21 Controller (Power, Range, Gain, Shift, and User keys) |
| Pulse width | 0.3/0.6/1.2/2.4ms |
| Output level | 0 - 10 (10 steps) |
| Tx cycle | Ranging time multipled by 2 - 5 times or synchronized by an external unit |
| Minimum Tx cycle | 133(ms) Depending on contents of the processing |
| TVG Processing | 20logR(SV), 40logR(TS), Flat, CONV (Traditional way) |
| TVG Volume | 0.0 - 10.0 Operative when CONV Mode |
| Display Functions: | |
| Normal screen | Normal fish finder screen |
| Enlarged dual screen | Enlarged screen of normal screen or dual screen of bottom fixed of normal screen |
| A-scope screen | A scope corresponding to normal screen and enlarged dual screen |
| Depth display | Display for bottom value of each fish finder |
| Navigation display | Display for longitude/latitude, vessel speed, and water temperatures |
| Net depth display | Display for water depth value of fish finder screen (Max. 4 units) |
| Water temp. display | Water temp. of ship bottom etc…, displayed by water temp. from external device. |
| Fish size graph | Display for fish-size graph of selected area (Only when connecting with a split beam) |
| Trace display | Display for a trace graph of selected area (Only when connecting with a split beam) |
| Number of screen display | Max. 5 displays (4 frequencies + frequency difference) |
| Scale | Meter, Fathom, Feet, Hiro |
| Range | 10 - 5000 (Meter Scale) |
| Original range | Arbitrary range value settings *10(scale) steps |
| Automatic bottom track | Auto range mode, auto shift mode |
| Shift | Variable within less than max. range in 1/5 steps |
| Display color | 16/64 colors |
| Color pattern | 8 types |
| White, black, ground color omission, OFF | 8 типов |
| Marker | minute, time, distance |
| Screen feed speed | 3, 2, 1, 1/2, 1/3 times |
| Screen feed direction | Normal (left direction), Invert (right direction) |
| Interference elimination | 4 types (weak, medium, strong, interpolation) |
| Discrimination | Horizontal and Vertical discrimination 1 - 20 |
| Bottom level | Color display (16 or 64 steps) |
| Recording function: | |
| Display | JPEG format, Resolution: 1280 x 1024 |
| Raw data recording | Sonic format, compatible with KFC-3000 |
| External interface | Synchronized input/output (TTL plus/minus), Navigation information input/output (Corresponding to NMEA0183), Net depth (Sonic net finder or keying input) |
| Language | Japanese, English |
| Power supply: | |
| PRC-59 Processor | AC100V - AC220V±15% 60VA |
| SR-87 Tx/Rx | AC100V - AC220V(Switch) ±15% 200VA |
| Operational temp: | |
| I-133 Display | -5 - 45° |
| RC-21 remote controller | -5 - 45° |
| PRC-59 Processor | -5 - 45° |
| SR-87 Tx/Rx | -5 - 55° |
A scope of delivery
I-133 Display
RC-21 remote controller
PRC-59 Processor unit
SR-87 Transceiver
Transducer
A set of mounting tools