Radars Furuno FR - 2115 / 2125 / 2155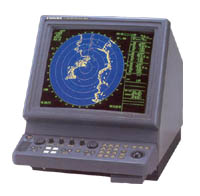 Output capacity 12 kW (FR-2115), 25 kW (FR-2125) or 50 kW (FR-2155).
Daylight-bright resterscan 21-inch multi-color, high-resolution display.
Radius of round-up up to 96 nm.
New technologies of signal treatment.
New cast aluminum scanner gearbox and new series of streamlined antennas.
Easy operation by a combination of discrete keys, Track ball and menu.
Electronic Plotting Aid (EPA) fitted as standard, Automatic Radar Plotting Aid (ARPA) option exceeding IMO and IEC standards.
Reliable CPA and TCPA warning in any plotting mode, accurate target data.
Optional 42 rpm scanner for high speed vessels.
Voltage is 115/230 V AC.
Technical specifications
Parameters, function
Values
Antenna type
Slotted waveguide array
Rotation
24/42 turns/min
Horizontal beamwidth
1,8°, 1,23°, 0,95°, 0,75°
Vertical beamwidth
20°
Working frequency
9410±30МHz (X-band)
9415±30МHz (50 kW model)
Output power
12 kW (FR-2115)
25 kW (FR-2125)
50 kW (FR-2155)
Frequency
60 МHz
Noise figure
6 dB
Display type
21" color CRT, 1280x1024 pixel
Modes of reflection
Head-Up, Head-Up TB, Course-Up, North-Up, True Motion
Detection ranges
0.125, 0.25, 0.5, 0.75, 1.5, 3, 6, 12, 24, 48, 96 nm
Ring ranges
0.025, 0.05, 0.1, 0.25, 0.25, 0,5, 1, 2, 4, 8, 16 nm
Minimum range and discrimination
35 m
Input NMEA 0183 data
$xxGGA, $xxGLL, $xxRMA, $xxRMB, $xxRMC
$xxBWR, $xxBWC, $xxWPL, $xxRTE, $xxDPT
$xxDBT, $xxDBS, $xxVDR, $xxMWV, $xxVBW
$xxVHW, $xxVWT, $xxVWR, $xxZDA, $xxMTW, $xxVTG
Output NMEA 0183 data
$RAOSD, $RARSD, $RATTM
A scope of delivery
Standard set
Display
Antenna
Transducer cable 30 m
Installation materials and spare parts
Option
Gyro IGL-01
Video Plotter RP-26
Radiation detector PM-30
Auto Plotter ARP-26