VHF radio stations Samyung SMD-150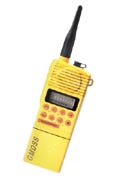 Portable marine VHF radio station SMD-150 (SAMYUNG, South Korea). Waterproof and antistrike execution. Level indicator of battery charge. Level indicator of receiving signal. Level indicator of system of noise suppression.

Possibility of user programming with a help of PC. Self diagnostics system. Function of economy battery consumption. Switching on and off by one button. Possibility of usage in gloves.

Is corresponded to IMO requirements regarding GMDSS. Type approval by RMRS. Type approval by DMT.
Technical specifications
Parameters, function
Values
Frequency range
156-163 MHz
Mode of work
Semi duplex
Type of emission
F3E
Amount of channels
All simplex channels
Bandwidth
25 kHz
Frequency stability
± 10 PPM
Admissible temperature range
since -20° to +55° C
Power Supply
9.6 V DC
Work of one battery
8 hours (5% - transmitting, 5% - receiving, 90 % - wait)
Battery capacity
1150 mA
Waterproof
1 m (during 5 minuts)
Maximum using temperature
+ 45° C
Transmitter:
Transmit power
2 W or 0,5 W
Frequency stability
< ± 1,5 kHz
KNI
< 10%
Master clock
Frequency sequencer
Frequency deviation
< ± 5 kHz
Receiver:
Type
Superhet with double converter of frequency
21,4 MHz and 455 kHz
Sensitivity
-107 dB (SINAD 20 dB)
KNI
< 10%
Correlation of signal/noise
> -40 dB
Audio output
500 mW (8 Оm / 10%)
Intermodulation
> -74 dB
A scope of delivery
Standard:
Radio station;
Lithium battery;
Cadmium-nickel accumulator;
Charger;
Net adaptor;
Case;
Manual description on Russian and English.
Options:
RMRS certificate;
Act of complex checkout.