Radar Furuno M-1623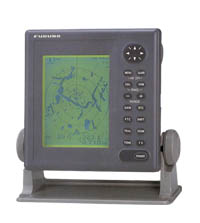 6" temperature-compensated LCD display of high image sharpness.
Build-in EBL functions (electronic azimuth) and EVRM (electronic marker of removal).
Radius of watch is 16 nm, 12 detection subranges.
Zoom mode helps to constrict the area of watch up to 1/8 nm during navigation near berths and in narrow straits.
Comfortable and easy control system with a help of cursor Omnipad.
Super image sharpness.
Possibility of picture reverse.
Easy in installation.
Possibility of connecting with receivers GPS, Loran and chart plotter.
4 shades of gray for better target discernibleness.
Possibility to choose between dark or light background for best visibility in any time of the day.
Echo plot mode for simpler following of target moving.
Guard Zone mode warns operator about appearing an object in a specified zone.
Automatic adjustment of receiver sensitivity and anti-clutter control.
Is corresponded to the demands of U.S. Coast Guard CFR-46 "waterproof device" for mounting on opened vessels.
Technical specifications:
Parameters, function
Values
Antenna type
Slotted wave guide array
Rotation
24/48 turns/min
Horizontal beamwidth
6.2°
Vertical beamwidth
25°
Working frequency
9410+30МHz (X-band)
Output power
2,2 kW
Frequency
60 МHz
Noise figure
6 dB
Display type
6" LCD display with green color,
4 grades of brightness, resolution, 240 x 320 pixel
Modes of reflection
Head-Up, Head-Up TB, Course-Up, North-Up, True Motion
Detection ranges
0.125, 0.25, 0.5, 0.75, 1, 1. 5, 2, 3, 4, 6, 8, 12, 16 nm
Ring ranges
0.0625, 0.125, 0.25, 0,5, 1, 2, 3, 4 nm
Input NMEA 0183 data
$xxBWC, $xxBWR, $xxDBK, $xxDBS, $xxDBT
$xxDPT, $xxGGA, $xxGLC, $xxGLL, $xxGTD
$xxHDG, $xxHDM, $xxHDT, $xxMDA, $xxMTW
$xxRMA, $xxRMB, $xxRMC, $xxVTG,
Environmental temperature
- 15° C + 55° C (reflection device)
- 25° C + 70° C (antenna)
Waterproof
IEC 529 IPX5, USCG CFR-46 (display)
IEC 529 IPX6 (antenna)
A scope of delivery
Display;
A set of mounting tools.