VHF radio stations JMC RT-2500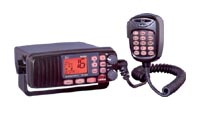 VHF radio station RT-2500 (JMC, Japan) has 55 international marine channels which number is dialed directly from the panel.

There is a mode of emergency help call with data transmitting about the vessel during additionally data connection from GPS. DSC of D class does not retranslate a received message about accident in automatic mode.

Radio station is remarkable for high reliability, multifunction, quality performance. Is recommended to use for work and emergency radio connection on any marine movable objects.

Has certificate from RMRS.
Technical specifications
Parameters, function
Values
Range of frequencies on transmitting
156.050 - 157.425 MHz
Range of frequencies on receive
160.050 - 162.025 MHz
Capacity
1 W or 25 W
Consumed capacity
13,6 V
5,6 А (during transmitting)
0,7 А (during receive)
0,2 А (during wait)
Working temperature
From -15 to +55°С
Storage temperature
From -30 to +60°С
Cabinet size
63 х 159 х 183 mm
Weight
1,1 kg