Radio facsimile receiver JMC FX-220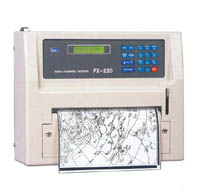 FX-220 (JMC, Japan) is a radio facsimile receiver. Autonomic marine facsimile radio receiver, which is designed for receiving data about weather forecast covering all radio fax, broadcasts in LF, MF and HF bands.

Receiving of weather charts is fully atomized and is corresponded with IMO requirements. Manual control of recording for printing broadcasts which are not related to IMO.

Thermal-head printer with high resolution on thermo-sensitive paper without scent and fumes.
Technical specifications
Parameters, function
Values
Wave shape
J3C (USB only)
Frequency band
From 080,0 to 159, 5 kHz
From 02,0000 to 23,9995 MHz
Sensitivity
10mcV(S+N)/N= 10 dB (080,5 -159,5) kHz
2mcV(S+N)/N= 10 dB (02,0000 - 23,995) MHz
Amount of preliminary installed in memory channels
308
Amount of user channels
200
Timer capacity
10 stations per day х 2 memory banks
Printing paper
Thermal (216 х 30 mm)
Gradation of record
8 gradations
Speed of scanning
60, 90, 120, 240 turns per minute
Interaction index
576, 288
Record control
Start/stop, scan speed, phase concordance, index, automatic/manual control
Power supply voltage
From 11 to 36 V DC
Current (during U = 24 V)
1 А (wait)
1,5 А (print)
A scope of delivery
Weather radio receiver FX-220;
Cable with connectors «Power cable»;
Connectors for outward switchers;
Printing paper (1 roll);
Mounting parts.

Note!
Transducer is not included in a set of delivery.