Navtex JMC NT-1000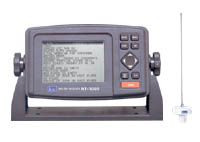 A wide dynamic range sensitive receiver ensures reliable reception of navigational and meteorological information and also messages on search and rescue of vessels which are being wrecked and other emergent messages.

High contract 4.5-inch monochrome LCD display. Huge message storage capacity stores more than 120.000 characters or of average 300 messages. A short stainless whip-type active antenna is supplied as standard for coastal or medium range operation.
Technical specifications:
Parameters, function
Values
Working range of coastal station
From 250 to 400 mile
The frequency of receiving
518 kHz
The class of receiving signal
Frequency telegraphy F1B
Input impedance
50 Оm
Modes of receiving
Receiver sensitivity
Not worse than 1 mkV
Receiver selectivity:
- At a level 6 dB
- At a level 60 dB

300 Hz
2 kHz
Stray radiation
Not more than 2 nVt
Input receiver protection
30 V (root-mean-square denotation)
Memory capacity
127.000 symbols (in average more than 300 messages)
A type of receiving antenna
Active with coaxial cable and flagpole 60 centimeters antenna (120 centimeters - option)
Output data
7 bit ASCII
Display:
Type of display
Monochrome LCD
Size along a diagonal
4,5 inches
Resolution
192 х 128 pix
Amount of lines
16
Amount of symbols in a line
32
Display modes (pages)
NAVTEX text
Navigational data (coordinates, date/time, speed)
Power supply:
Voltage
From 11 to 40 VDC
Consumption capacity
Not more than 5 Vt
Conditions of operation:
Temperature
From -15 to +50°С (receiver)
From -20 to +60°С (antenna)
Humidity
Till 93% (during 40°C)
Receiver dimensions
215 х 80 х 130 mm
Mass
around 650 g
A scope of delivery:
NT-1000 receiver;
Active antenna with a cable;
Flagpole antenna;
A set of mounting parts;
In-line documentation.