Navigation plotter Samyung NAVIS-3700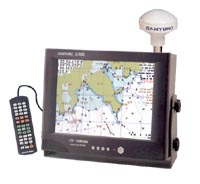 Navigation plotter NAVIS-3700 (SAMYUNG, Korea). Screen-brightness 450 nc. Clear-view and wide viewing-angle TFT LCD 10.4" of color display.

Modes of work: true course, true rostrum, true north, relative move. Slot for simultaneous maintenance of two cartridges of standard C-MAP NT+.

Easy in ruling and automatic help menu. Possibility of double ruling - from plotter keyboard and from remote keyboard. Possibility to use in a set of new fishing communicative net.
Технические характеристики
Параметры, функция
Значение
GPS-приемник:
Частота приема
L1 1575.42 Мгц
Количество каналов приема
12
Количество одновременно отслеживаемых спутников
12
Тип приема
Цифровой многоследящий
Чувствительность
143 дБм
Точность GPS (NAVIS-3700)
10 м
Точность DGPS (NAVIS-3700D):
- по местоположению
- по скорости

3 м
0,1 уз.
Плоттер:
Тип дисплея
Цветной VGA TFT LCD 15.1''
Разрешение
1024х768, 256 цветов
Граница использования
Ниже 85 широты
Шкалы
0,2 мили ... 5000 миль (1/2000...1/37500000)
Скорость установки путевых точек
От 1 сек. до 60 мин. (0,01...9,99 миль)
Количество путевых точек
20000 точек, рабочий журнал 99 страниц
Количество событий
21 тип
Количество меток
10000
Количество точек береговой линии, обозначаемых пользователем
8000 точек 16 цветов береговой линии
Количество меток береговой линии
1000
Количество знаков береговой линии
1000
Количество конечных точек пути
1000
Количество маршрутов
20 (по 20 точек на маршрут)
Алармы
1) Достижения конечной точки пути
2) Отклонения от курса
3) Стоянки на якоре
4) Обозначенной границы
Интерфейс
SAMYUNG, NMEA-0183, FURUNO, JRC
Питание
10-40 V DC, 40 Вт
Комплект поставки
Базовый
GPS/DGPS-плоттер NAVIS-3700 / 3700D;
GPS/DGPS-антенна SAN-250 / DSAN-250;
Дистанционное управление REM-3000;
Монтажные части и ЗИП;
Описание пользователя на русском языке.
Опции:
Подводная камера;
Факсимильный приемник карт погоды;
TV / FM - приемник;
Дополнительный факсимильный приемник карт погоды;
Картридж С-МАР NT+;
Принтер.