Course Synchro Translator SI-TC-8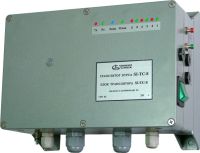 Using on vessels with new gyrocompasses for contol selsyn repeater.
Data transformation from gyrocompass into 3-phase selsyn control signal.
Providing selsyns with activation voltage.
Receiveing course denotation in formate NMEA 0183 or from step output of gyrocompass is done by jumper.
Transming course in IEC 61162 / NMEA 0183 standard.
Possibility of simulteneous manual course coordination of all repeater units with gyrocompass readings.
Technical Specifications
Parameters, function
Values
Course Signal Input
Step voltage amplitude, range of input signal 20 - 75V, 6 steps/degree.
NMEA 0183
IEC 61162 / NMEA 0183 - $HEHDT,ХХХ.X,T,*hh
Activation voltage
110 V 5%, 50Hz or 500Hz
Course Ratio
1° course alteration per selsyn rotation.
Output NMEA 0183
$HEHDT,ХХХ.X,T,*hh
$HEHDМ,ХХХ.X,М,*hh
Transmission speed - 4800 baud.
Output synchro signal
By amplitude 43V with possibility to regulate in the range of 5%, maximal voltage current 1А
Time of data renewal
1sec / 0.1 sec.
Rate of Turn 180°
1 min 40 sec.
Power Supply
220 V +10% -15%, 50 Hz, 100 VA.
Weight
Not exceeding 5,0 kg
Dimensions
Not exceeding 272 x 188 x 125 mm
A scope of delivery
Translator Unit "SI-TC-8"
Synchro activation unit (50 Hz or 500 Hz)
Manual С5.105.016
Installation Kit