MF/HF radio station Samyung SRG-1150 / SRG-1250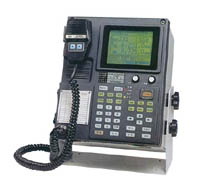 Marine desk type MF/HF radio station with build-in DSC receiver. Model SRG-1150D (150 W), model SRG-1250D (250 W). Produced by Samyung Enc., South Korea.

Build-in watch DSC receiver. Easy comprehensible LCD-indicator. High quality of connection. Possibility of scanning the group of individual frequencies or group of channels DSC receiver. Possibility to memorize a transmitting message (up to 100 pcs.). Possibility to memorize receiving messages (50 about disaster and 50 regular). Easiness of installation and adjustment with a help of self-diagnostics system.

Is corresponded with requirements of IMO, ITU, GMDSS. Has type approval from RMRS.
Technical specifications
Parameters, function
Values
Frequency range (Transmitting)
1,6 MHz - 27,5 MHz (step 10 Hz)
Frequency range (Receive)
500 kHz - 29,99 MHz (step 10 Hz)
Amount of channels in memory
999
Type of radiation
J3E, H3E, F1B
Modes of work
Simplex, semi duplex
Range of temperatures
Power supply unit
Dimensions
312 х 288 х 166 mm
Transmitter:
Type of emission
SRG-1150D: J3E, J2B (150W), H3E (75 W)
SRG-1250D: J3E, J2B (250W), H3E (100 W)
Alarming
Two-tone (1300 Hz, 2100 Hz)
Receiver:
Type
Superhet with double converter of frequency
Audio output
49,455 kHz, 455 kHz
Sensitivity
J3E, F1B, J2B -3 Maxwell, H3E -6 Maxwell
Input resistance
50 Om
DSC:
Frequency
2187,5 , 4207,5 kHz, 6312, 8414,5
Type of emission
F1B, J2B
Frequency accuracy
1700 ±85 Hz
Speed of transmitting
100 bite / sec
Selectivity
6 dB (during 270 - 300 Hz)
30 dB (± 380 Hz)
60 dB (± 500 Hz)
A scope of delivery
Converter AC 110/220 - DC 24 V / 50 А;
Radio telex;
Printer;
Keyboard;
Lamp of emergency lighting.