Charts system Transas Navi Fisher 3000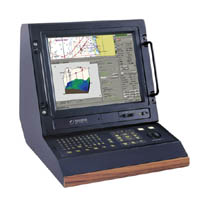 Navi-Fisher 3000 is an up-to-date electronic chart system ensuring safety at sea, helping to improve efficiency of fishing operations and, as a result, to increase catch and reduce running costs.

Usage of world collection of charts in Transas TX-97 format, a possibility to edit charts manually.

Drawing all moving objectives in radar area to electronic chart with the help of ARPA function. Receiving the next weather parameters: pressure, speed and wind direction, considerable sea roughs. Planning of vessel moving route considering possible risks and decreasing of fuel consumption.

3-D model making of bottom relief based on data about depths on electronic chart and also based on the additional information entered by the user. Work with echosounder: echogram, bottom profile along the route, isobaths, which were taken out from charts TX-97 format, echosounder depth line, which was installed by the user.
Technical specifications
Parameters, function
Values
Charts usage
Of all official formats including vector format TX-97, ENC. Is possible to reflect up to 6 charts simultaneously.
Marine journal
Automatic maintenance of electronic vessel journal
Chart correction
Delivery of renewed charts on СD every three months
renewal every 2 weeks by the Internet
"Info" function
Additional information about any object or a mark on electronic chart
Flows and currents
Data base concerning ebbs and flows, levels of flow and season and surface currents.
Plane tables
Creating valuable fishing plane tables
3D model of bottom
Reflection of sea bottom relief under symbol of proper vessel, or in any point by user's choice.
Alarm signaling
antigrounding - approaching to navigational risks
route - vessel deviation from the route
target/radar - events, which are connected with objectives and with sensors
chart areas - approach to zones of separation
sensors - data monitoring from connected sensors
network аlarms - monitoring of net configuration state
Work with echosounder
Current depth and units of measure
Echogram
Relief of sea bottom according to active route
Projection of vessel itself on bottom surface
Isobaths received from charts TX-97
Route points, their names
Trawl models with adjustments of length and depth wires
Records reproduction
Reproduction of all fishing operations
Route planning
Creating a route including up to 999 route points
Tracks
Track of vessel itself
Trawl track
Track from SARP, processor radar or AISTrawl track
Radar reflection
Superposition of "raw" radar picture above the chart
Automatic marking and escorting till 500 objectives simultaneously
Record of "raw" radar reflection on hard disk of PC
Navtex information
Automatic counting of received by Navtex system messages
Processing, separation of position data, of area, which transmit stations and themes
Weather module
Getting weather forecast for 5 days by e-mail
Integration with AIS
Reflecting objectives of AIS on the screen
Full information about objectives
Sending and receiving messages
Objectives identification according to the name, MMSI and call-sign
Marking of chosen objectives on the chart
Search-and-rescue operations
Creating routes, which are according to one of scheme of rescue distressed
A scope of delivery
Display;
A set of mounting tools.
Configuration