Navtex JMC NT-900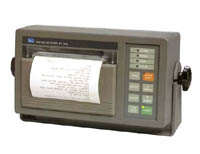 Receiving and printing on a fitted printer navigational and meteorological information which is transmitted by coastal stations of international automatic service.

Receiving information on search and rescue of vessels that are being wrecked and for other emergent messages. Operator is possible to choose the receiving only those information which is needed to particular vessel. Preliminary synchronization of receiving from coastal transmitting station.
Technical specifications:
Parameters, function
Values
Working range of coastal station
from 250 till 400 mile
The frequency of receiving
518 kHz
The class of receiving signal
Frequency telegraphy F1B
Receiver sensitivity:
- on artificial antenna 50 Om
- on artificial antenna 10 Оm 150 pF

Not worse than 2 mkV
Not worse than 5 mkV
Receiver selectivity:
- at a level 6 dB
- at a level 60 dB

300 Hz
2 kHz
Stray radiation
Not more than 2 nVt
Protection of receiver input
30 V (root-mean-square denotation)
A type of receiving antenna
Active with coaxial cable having length 15 m
Amount of message determinants in a memory
More than 30
Printer:
Printing type
Thermoprinting
Line length
42 digits
Token structure
stencil 7х5 (height 2,4 mm, width 1,4 mm)
Printing speed
0,7 lines per second
Printing capacity (for 1 roll)
more than 250000 digits
Paper (roll)
ТР50KS 25 meters, (112х47 mm)
Power supply:
Voltage
From 9 till 40 VDC
Consumption current
Not more than 1,5 А
An average consumed capacity
Not more than 9 Vt
Conditions of operation:
Temperature
From -15 till +55°С
Humidity
Up to 93% (during 40°C)
A scope of delivery:
NT-900 receiver;
Antenna active with cable;
Flagpole antenna;
Paper for printer (1 roll);
A set of mounting parts;
In-line documentation.