MF/HF radio stations Furuno FS-1570 / FS-2570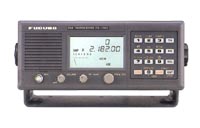 Marine MF/HF radio stations of GMDSS. Power 150 W (for FS-1570) or 250 W (for FS-2570). Frequency range 1,6-27,5 MHz (TX), 0,1-30 MHz (RX). Build-in DSC. Simplex/ semi-duplex mode of work. All channels ITU, 256 user channels. Power supply 24 V. Compact design. High frequency stability for modes of DSC facility and telephoning.

Has a Type approval of RMRS and DMT.

Technical specifications
Parameters, function
Values
Frequency range
Transmitting: 1.6 - 27.5 MHz
Receiving: 0.1 - 30 MHz
Channels
256 channels, programmed by service specialist, any of the following frequencies:
- All frequencies from MSA regulations (ITU RR Appendix 16) in a range 4 - 27.5 MHz
- All frequencies of alert for telephoning, DSC
- All telephone frequencies instructed by national administration in accordance with MSA regulations (ITU RR Article 8) in a range 1.6 - 4 MHz
Applied rules and regulations
ITU-R Rec. 493-10 (Class A), 541-8, 1082-1
IEC 61097-3/61097-8/61097-9, IEC 61162-1, IEC 60945
IMO Res. A.804(19) and MSC.68(68), EN 300 338 stability frequency ±10 Hz (for telephoning)
Communication system
Simplex and semi-duplex
Class of emission
J3E (Telephoning)
J2B (DSC)
Output capacity of transceiver
Model FS-1570: 150 W
Model FS-2570: 250 W

According to FCC 80.215:150 W in a range from 2 to 4 MHz, 400 W on frequency 2182 kHz, attenuator up to 60 W PEP.
Alert signal transmitting on a full power supply
Antenna
Pin 7-18 m and beam antenna
Speed of adjustment
0,2 -2 seconds in average
Receiver output
Is available to supply at least 2 W (1 W/8 Оm, 4 W/4 Оm)
Digital Selective Call (DSC)
Call transmitting and alert message
Message format
RR 3112: format indicator (alert), Marine Vessel Identificator, type of alert, alert positions, time, team DU (EOS, ECC)
Frequency of alert and safety
2187.5, 4207.5, 6312, 8414.5, 12577, 16804.5 kHz
Frequencies of commercial DSC
1.6 - 27.5 MHz (in model FS-2570 for commercial DSC an additional receiver is required)
Frequency stability
± 0.5 Hz
Buffer of storage received messages
Up to 50 messages about alert plus 50 other messages
Buffer of storage transmitting messages
50 cells containing messages, phone numbers, working frequencies etc.
Alarm
Sound and light alarm when:
- Receiving a message about alert, urgency or usual calls.
- Absence of positions from outward source of signal NMEA
Display
160 digits on 8 lines, 95 x 60 mm
Frequency shift (DSC)
Pressing: 1615 Hz, gap 1785 Hz, 100 baud
Interface of data transmitting
IEC 61162-1
Power supply voltage
24 V (DC)
Consumed current (when transmitting)
20 Ampere (150 W for model FS-1570)
35 Ampere (250 W for model FS-2570)
Consumed current (when receiving)
0.8 Ampere (150 W for model FS-1570 )
1.5 Ampere (250 W for model FS-2570)
A scope of delivery
Standart:
Transceiver;
Remote control panel;
Handset;
Antenna Corresponding Device:
– AT-1560-15 (for model FS-1570);
– AT-1560-25 (for model FS-2570).
Option:
Rectifier with automatic switcher on alarm power supply:
– PR-300 (for model FS-1570);
– PR-850A (for model FS-2570);
Modem and monitor/ Radio telex;
Remote loud speaker;
Remote alarm button IC-302-DSC;
Remote repeater of informing about receiving of call IC-303-DSC;
Remote control panel;
Controller of message processing about alert DMC-5;
Flagpole antenna;
Watch receiver of commercial DSC for model FS-2570;
RMRS certificate.