MF/HF radio station Samyung SRG-250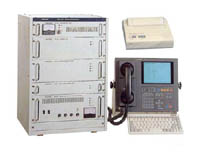 SRG-250 (Samyung, Korea) is a MF/HF radio station consisted of main radio transmitting/receiving module, managing control unit with printer and a keyboard. Module construction supplies with easy management and repair.

Build-in charger. Possibility of connecting the second fully-function managing controller. Big screen of LCD monitor , easy and comfortable menu. Main functions, signal alarm transmitting is made by pressing one button.

Has a type approval from RMRS.
Тechnical specifications
Parameters, function
Values
Frequency stability
within 10 Hz (0.3 ppm), synthesizer
Choosing of frequency
All channels of Marine moving service. Call of 2000 user channels from a key board (possibility of editing), direct frequency installation. Channel installation of 2182 kHz (Н3Е) by operation in one action. Constant scanning of frequencies 2187.5, 4207.5, 6312, 8414.5, 12577, 16804.5, kHz (F1B/J2B).
Time of switching over to frequencies
between channels - not more than 5 sec.
between bands - not more than 15 sec. (including time of matching with antenna )
Class of emission
USB (J3E), H3E, FSK (F1B)
Communication system
Duplex, semi-duplex
Climate conditions
Temperature form -15 to +55°С
Humidity 95% (+40°С)
Vibration 5-12.5 Hz (with amplitude 3.2 mm)
Vibration 25-50 Hz (with amplitude 0.2 mm)
Sources of power supply
DC 24V, -10%~+30%, max. 40ААС 100-120/200-240V, frequency 50/60 Hz ±6%, 1-phase max. consumed current 3.3 kilovolt-ampere (when using power supply unit)
Dimensions
525 x 735 x 420 mm
Weight
150 kg
MF/HF transmitter:
Frequency range
1.6 kHz - 27.5 MHz
Time of work
works more than 8 hours with signals transmitting longitude 1 min. and break in 4 min.
Output capacity
250W max (when loading 50 Оm)
Changing of capacity
100/250 W
Weakening of radio transmitting carrier
more than 40 dB (in J3E)
Weakening of out-of-band emissions
in J3E more than 7.5 kHz more than 43 dB
in F1V/J2V 500 kHz more than 43 dB
Bandwidth
350 - 2.700 Hz, deviation not more than 6 dB
Audio
+10 dB/-35 dB, impedance 600 Оm
MF/HF RECEIVER:
Frequency range
1.6 MHz - 29,9999 MHz with step 10 Hz
Receiver type
conversion double superhet which uses digital frequency synthesizer of type of phase lock. The first intermediate frequency - 49,455 MHz. The second intermediate frequency - 455 kHz
Output capacity of audio
max. more than 2 W
Sensitivity of receiving
on a frequency 1.6 MHz- 29,9999 MHz SSB less than 3 micro volt(S+N+D)/(N+D)=20dB, band: 3 kHz, output capacity audio 100 megawatt
Frequency adjustment
± 120 Гц
DSC
when 10 micro volt error rate on a token not more than 1 x 10-2
Mode of receiving
FSK
Features of 3 kHz filter (for SSB)
band frequency width in limits ± 2,1 kHz weakening 66 dB
Selectivity with near by channel
more 70 dB
Selectivity with subsidiary channel
more 80 dB
Intermodulation output signal
more 70 dB
Whatching receiver:
Frequency
2187.5, 4207.5, 6312, 8414.5, 12577, 16804.5, kHz
Scanning motion
Scanning method is possible on all above mentioned frequencies. All chosen frequencies must be scanned during 2 sec. Scanning must be ended only during dot definition which are transmitting with speed 100 baud.
Sensitivity of motion
during 10 micro volt error rate on a token not more than 1 x 10-2
Stability
in limits ± 10 Hz
DSC:
Digital Selective Call
Protocol
ITU-R M.493-10, M.541-8
Class of emission
F1V/J2V 100 baud
Unit of modulation
output frequency 1700 Hz ± 85 Hz
level of output max. + 10 dB (600 Оm symmetric / asymmetric)
Unit of demodulation
input frequency 1700 Hz ± 85 Hz
level of input from -20 to +5 dB (600 Оm symmetric / asymmetric)
NBL:
Narrow Band Letterprinting
Protocol
recommendations ITU-R M.625-3, M.476-5
Working mode
ARQ (automatic request)
CFEC (circular call)
SFEC (individual circular call)
A scope of delivery
Main:
MF/HF transmitter;
Stimulation unit;
MF/HF receiver;
MF/HF watching receiver DSC;
DSC module/Telex;
Charger/ power supply unit;
Printer/ keyboard;
Managing controller;
Antenna linkage;
Alarm button;
NMEA buffer;
Handset;
Spare parts;
Transceiving antenna;
MF/HF receiving antenna DSC;
User manual;
Register certificate.
Option:
Additional controller (control panel);
Standby charger;
Console (hull for integration) SRG 250 and ТТ3020С;
Console (hull for integration) SRG 250 and SRG-580;
Power distribution unit.