Simbia CPS-200 sounder description for PDA
If you have a pocket personal computer (PPC), then you are able to broaden its circle of potential and to make it your helpmate at fishing. "Simbia CPS-200" echosounder allows to realize all spectrum of functions of this type echosounder, and also some functions, which are characteristic for professional fishing technique.
Color pocket echosounder "Simbia CPS-200" is designed for amateur fishing and suits perfectly not only for fish catch and bottom pond research, but also can be used as a support navigational equipment. Echosounder allows to realize all spectrum of functions of this type echosounder, and also some functions, which are characteristic for professional fishing technique. Echosounder includes pocket personal computer (PPC), to which a transceiver with hydro acoustic antenna is connected. PPC usage as a system of hydro acoustic data processing and reflection allowed to broaden echosounder's potential and realize multifunctional devise.
Simbia CPS-200 echosounder has the following function possibilities:
several variants of connection with transceiver - cable (RS-232/USB interface) or wireless ("Blue Tooth" technology).
possibility of work with GPS module for creation of navigational-fishfinding complex with defining of speed and speed move position data.
usage of hydro acoustic antenna with temperature, speed sensors (or separate sensors) for measuring of water temperature speed vessel move.
slide record (screen photographing) and "alive" echogram in PC memory for the following slide view and playing echogram in a real time.
possibility of work in winter conditions through ice having thickness 0,5 meters during some decreasing of sensitivity. a wide range of modes of reflected information.
Echosounder is managed by screen buttons, menu and functional keys of pocket computer. For comfort work all main managing orders are accomplished by functional keys.
Full screen mode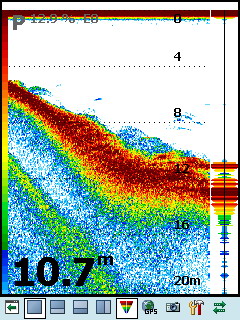 Choosing this mode, a full echogram of installed range is screen on echosounder. Color scale, range scale, present depth digit and other additional information is reflected on echogram.

Echo signals are displayed in 7 or 14 different colors from dark red to blue. Red color corresponds to the strongest signal, blue color to the weakest one. Intermediate colors correspond to the middle power signals of Color Scale.

Other echo signals are fish schools, change of temperature of water layers, air bubbles etc.

It is necessary to represent echogram of the bottom with red or brown color to have reliable reading of depth. These colors correspond to the strongest signals. Set the needed level of amplifying and TVG level, or switch on the automatic mode of amplifying.

Bright red stripe in the upper part of the screen at the zero mark is the zero line. Small echo signals under zero line relate to plankton, air bubbles and other small objects under water. Zero line on the screen testifies about normal functioning of echo sounder receiver and transmitter.
A pelagic extension mode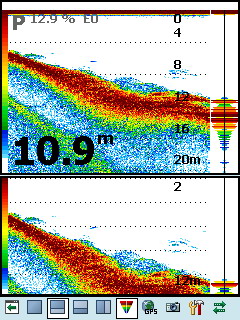 Pelagic mode is a display mode, which shows reflected signals of objects situated in the preset depth range in the lower part of the screen.

When using this mode echo signals are displayed in the range of amplification and help finding fish in the middle water.

You can separately set the range and shift (change the upper border of the range) for the main window of echogram and for the window of pelagic mode. Window size can be changed by stylus if desired.
A bottom extension mode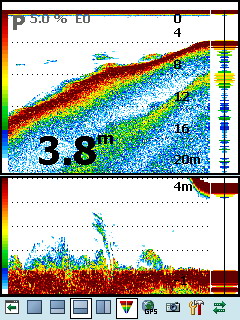 Bottom mode is a display mode, which shows reflected echo signals from objects situated in the preset depth range close to the bottom in the lower part of the screen. Usual echogram is situated in the upper part of the screen.

If you choose this mode, echo signals from bottom are displayed on the screen as straight line not depending on depth change, and echo signals coming from fish look like "grass" on this line. Thus finding fish on the bottom or near it becomes easy. Range width of pelagic mode equals half of the range of upper echogram (usual mode).

For successful work in bottom mode gain and TVG must be installed so that echo signals from the bottom would be perceived in red or brown color, and digital data of depth would be displayed on the screen. If the echo signals were yellow or other light shades, echo signals would not be displayed on the lower part of the screen.
Navigational mode
During navigational mode when GPS sensor is connected, data about time, current position, course, speed are displayed. When additional Log ands temperature ensors are connected - water temperature and speed data are displayed.

UTC universal time coordinate
LAT latitude of current position
LON longtitude of current position
COG course over ground
SOG speed over ground
SAT quantity of used satellites from 0 to 12 (it can differ depending on the quan-tity of observed satellites).
HDOP (Horizontal Deviation of Precision) is an error caused by satellite's position toward current position, which is used at the moment regarding the current position, velocity and direction of move. If standard GPS receiver is connected, HDOP denotation is changed from 0,1 (minimal error) up to 12 (maximal per-mitted error). Depending on connected GPS receiver it can change in range of 0,1 to 12. Anyway the less HDOP is, the higher is precision.
FIX - indicator of observation quality of GPS satellites.
Picture view mode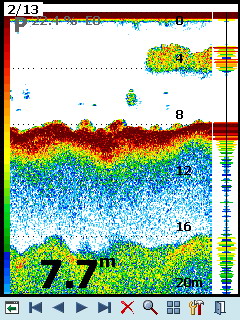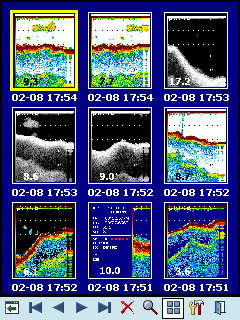 Picture view mode is de-signed to view previously recorded echogram pictures. There are two types of picture view mode on the drawing: the mode of consequent picture view and the mode of picture collection preview.

Diminished copies of pictures would be displayed on the screen in the mode of picture preview. There is a date and time of record on every picture.
This mode can be useful for reservoir's bottom research, account for work, creating the picture collection on distinctive places of reservoir etc. Records are stored in PPC memory in standard graphic format. These picture files can be recorded in PC and processed by graphic program.
Play echo mode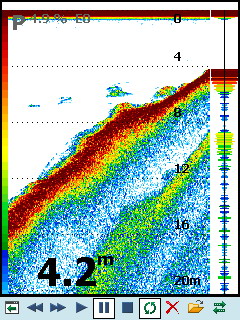 Echo sounder has an opportunity of recording and replaying "live" echograms. Push button on the control panel of main working mode to activate the recording process. Echo sounder must be in the transmit mode (button is activated). To stop recording push the same button for the second time. When echogram recording is activated, echograms of current mode are recorded to PPC memory.
Color palette of echo sounder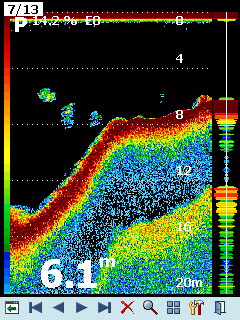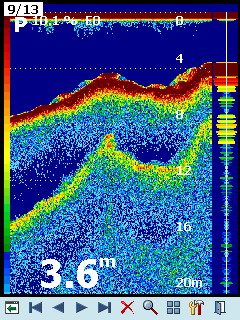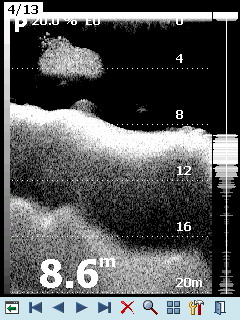 The echo sounder have different colors mode (8, 15 and 38 colors) and have different background colors - white, blue, black and gray palette.